1. YESTERDAY WAS COINCOUNTAPALOOZA! For those of you who may be new here, I feel it is my civic duty to put coins back into circulation, so once a year, I take my coins to a CoinStar. The greatest part of this exercise is that you can have your coins counted for free if you get a eCertificate. Amazon.com is one of the eCertificates you can get, so ALL OF THIS. I got my coins counted and had $83.82 in coins! WOOHOO! Except that when the machine tried to connect to print the amazon certificate, it failed miserably. So I got my coins counted for no fee AND GOT CASH, WHAT UP.
Also, coincountapalooza brings out the HUGE COIN NERD in me. I restrained myself from the new pennies and nickels and focused on the quarters. I think I got more than last year. 42 states plus DC and a bicentennial drummer. Here, have a picture: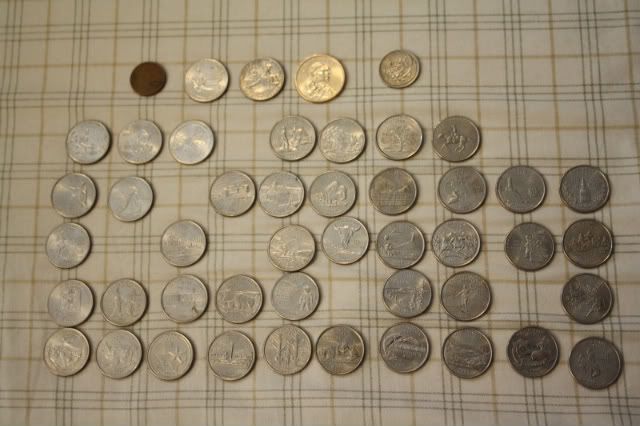 I didn't have Arkansas, (oddly enough) Georgia and Florida, Illinois, Michigan, Mississippi, Oklahoma and Rhode Island. On the top row is one wheatie penny, one Sacajawea dollar, and a Cayman Island dime. Awesome because it looks like an American nickel and has a sea turtle on the back.
2. THANKS FOR ALL YOUR HOOTING AND HOLLERING IN MY LAST POST. AND THANK YOU FOR STICKING WITH ME THIS LAST YEAR. I HAVE THE BEST FLIST AROUND.
3. I had a great day despite the fact that I only got about four hours of sleep last night because I was so wound up and also had caffeine at dinner. I started to fade at around 5:00. I dug around in my purse for a piece of hard candy and hit the jackpot. Last time I was home, I bought some pralines at Berdoll's. I put them in a box in my room and forgot about them until last week, and stuck one in my purse. WOOOOOO....SUGAR.
4. I had dinner with my dad tonight! He is in town for a company meeting. It was nice. He's not walking very well, but he should have his other hip done this year. I can't wait for Hermosa in June! (I'll really be ready for it come March.)
5. OMGIMMOVINGINLESSTHANTWOMONTHS.